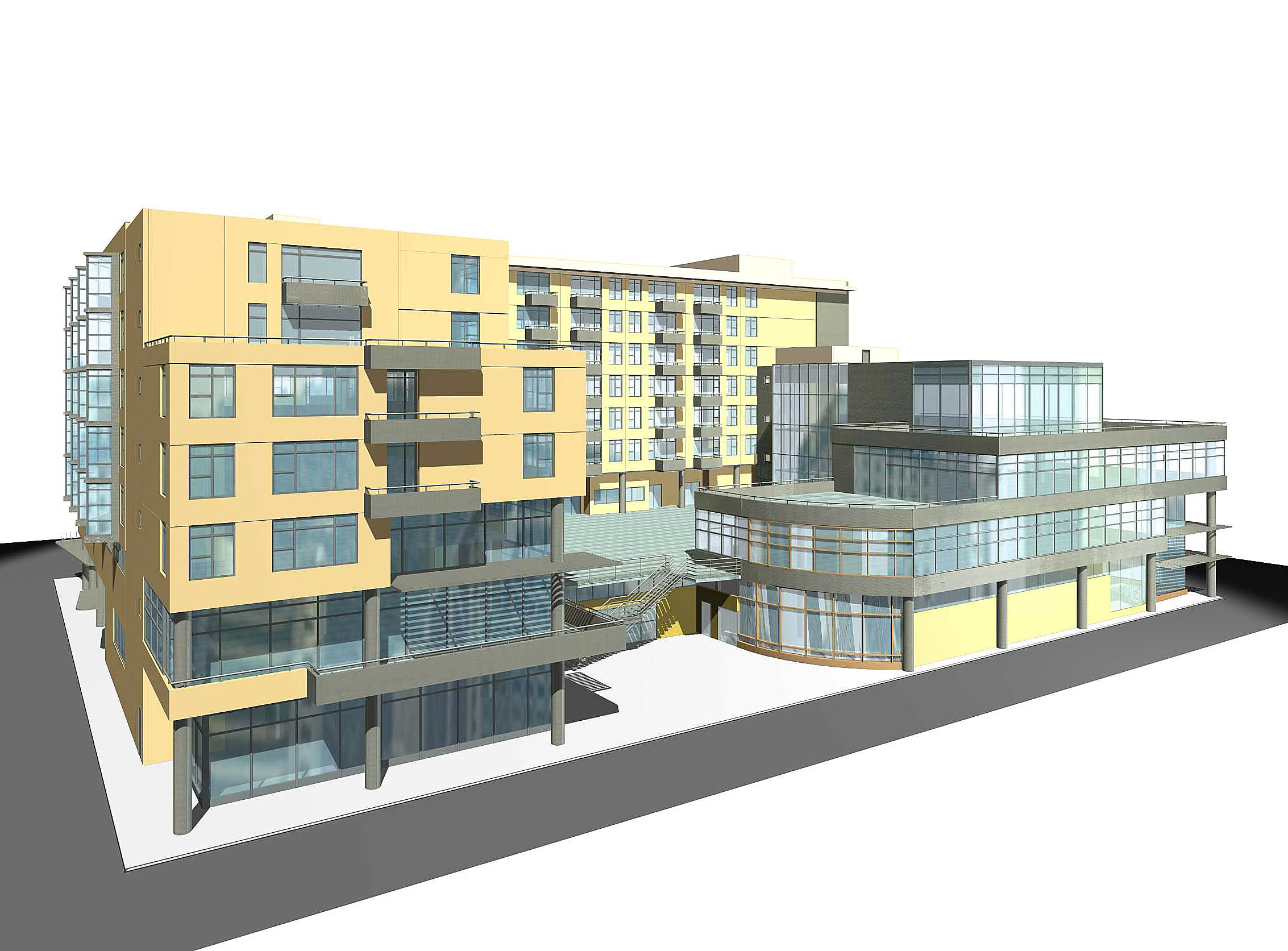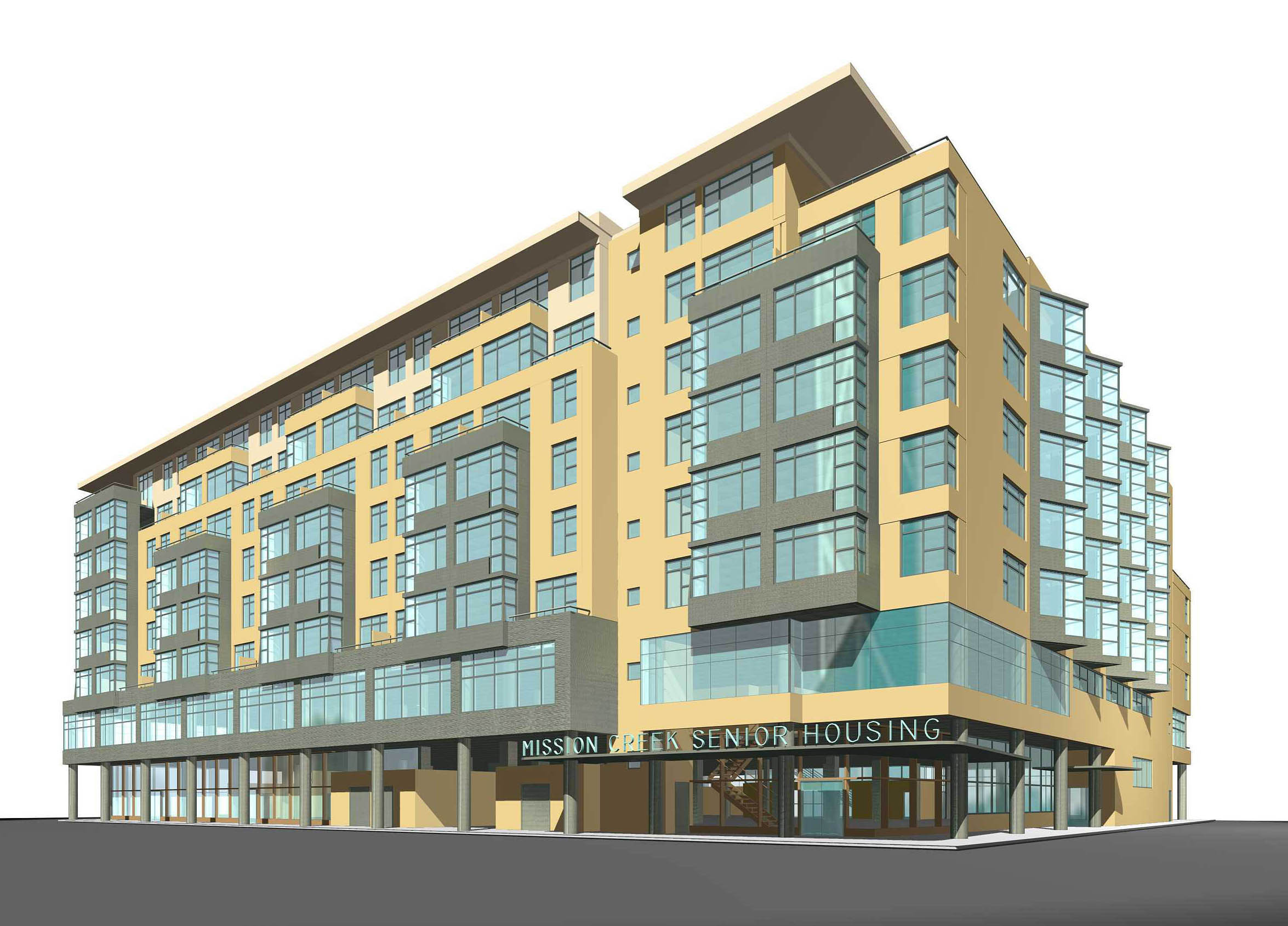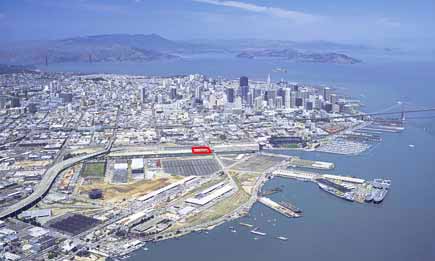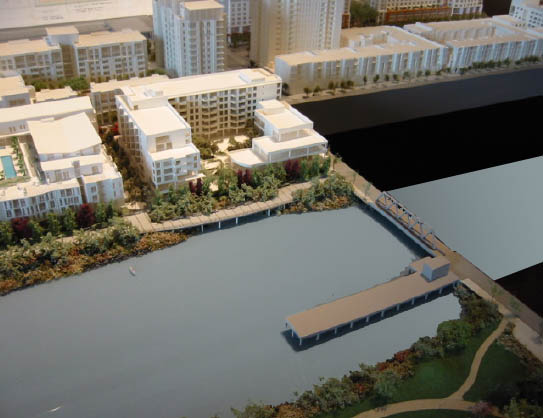 MISSION BAY SENIOR HOUSING
145,000 SQUARE FEET, MISSION BAY, SAN FRANCISCO, CA

MISSION BAY IS A 300 ACRE POST INDUSTRIAL DISTRICT IN SAN FRANCISCO THAT IS ONE OF THE BIGGEST NEW URBAN MEGA-PROJECTS IN THE COUNTRY AND REPRESENTS A COMPLETE REMAKING OF A SHIPPING AND MANUFACTURING ZONING DISTRICT INTO A NEW POST-MODERN RESIDENTIAL AND COMMERCIAL CITY-WITHIN-A-CITY, INCLUDING A NEW UNIVERSITY CAMPUS. AS SUCH, THE MISSION BAY SENIOR HOUSING PROJECT IS A TRULY MIXED USE PROJECT CONSISTING OF 140 ONE BEDROOM APARTMENTS FOR SENIOR CITIZENS, A BRANCH LIBRARY, AND COMMUNITY OFFICE AND MEETING SPACE. DONE WITH HKI&T AND ADELE SANTOS, THE PROJECT IS SITUATED TOWARDS THE NEW RESTORED MISSION CREEK AND THE MASSING ALLOWS A SOUTHERN EXPOSURE COURTYARD TO BE CREATED FOR SENIORS TO USE DURING THE DAY. UNITS ARE MODULATED TO ALLOW FOR A MODERN INTERPRETATION OF THE BAY WINDOW ON A NINE STORY SCALE IN ORDER TO MAXIMIZE SPACE AND LIGHT WITHIN THE LIVING SPACE. CORRIDORS ARE SIMILARLY DESIGNED TO BE SENSITIVE TO LIGHT USE AND VIEWS.